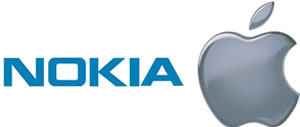 In a move that has stunned market analysts, Nokia has agreed to partner with Apple to develop a new successor to the iPhone. Alarmed by the rise of the iPhone, which is set to net Apple $3 billion this year and up to $45 billion next year according to market analyst Piper Jaffray, the giant Finnish phone maker has decided its best option is to work with Apple to develop an advanced smartphone that will be a hybrid iPhone/N-Series phone, combining the high-tech features of Nokia's N-Series range with the iPhone's revolutionary interface.
An insider at Nokia says the new super-phone will be a class-leading N-Series phone called the Nokia N-iPple, and will feature the same user interface as the iPhone, together with many of the high tech innovations that Nokia's N-Series is famed for. The insider claims the list will include:
HSDPA
aGPS with support for both Google Maps and Navteq Maps
7 megapixel camera with auto-focus
DVD quality 60fps video recording (similar to the LG Viewty's)
3.5" haptic touchscreen with iPhone interface
iPhone accelerometers
MP3 player with Nokia's new Flair Loop audio enhancement software
Tight integration with iTunes
3D graphics plus support for Nokia's N-Gage platform
Built-in video projector
High precision halogen light
Class-leading magnetometer
Integrated lighter
Reduced ironing option
Nokia and Apple are unsurprisingly being tight-lipped, with both declining to comment on the rumours. However, much of the Apple blogosphere is jumping on comments Steve Jobs made at this year's MacWorld conference as evidence that such a phone is currently being developed. During the conference, when asked by a journalist for information on any forthcoming new Apple phones, Jobs stated simply: "nipples."
With CTIA Wireless starting today, Apple and Nokia might publicly announce the deal in a move that will overshadow much of the other news coming from the conference - which is exactly what Apple did last year with the launch of the iPhone.